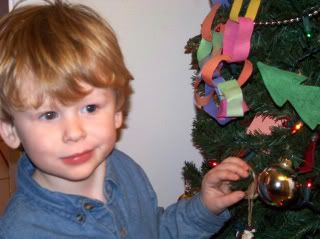 We decorated our Christmas tree and put up our other decorations this week.
We have made crystal ornaments with borax solution, inspired by
our friend
.
We have made little snowmen bell ornaments from a kit. (Too tiny for easy putting together, but we had fun anyway.)
We have more ornaments to paint still!
We have tried papaya and fresh coconut juice (not liked by boys). Green beans steamed in butter were accepted, still to try: artichoke. (Dinoguy chose the produce this week at the store that he wanted to try.)
We went to the park with friends and found a letter box too.
I have substitute taught at local schools 2 days this week and been really bored and wished I was at home playing and learning with my kids instead of watching other kids do worksheets.
We have watched many Christmas movies like Rudolph, Frosty, etc.
Fixitman took the boys today to the play Rudolph the red nosed reindeer and to the botanic gardens afterward for play since it was
too much for me
last month. I worked on finances and crafts and watched a movie while they are gone. They had a good time from what I hear.
Photo by Trainboy
Tomorrow is Home Depot craft day!
park play after the play
It has gotten kinda chilly here - the high during the day has been around 50 this week and its been in the 30's at night. I think I've acclimated to Texas weather since this feels pretty cold to me. I suspect people farther north have little sympathy though.
Dinoguy continues to be fascinated by all things castle and medieval, (inspired by his play of Age of Empires) in addition to dinosaurs. We have read several books about castles and knights in addition to an episode of
Modern Marvels
on castles that he watched about 4 times.
Hope you are having a wonderful week too!