L has recently been saying this to me a lot. "I trust you, mom." It started on the long road trip out here when we were taking turns choosing songs to listen to. "I trust you, mom." Okay. Now it is when I ask him to do something or offer him some choices. Today at the library, he wanted to play the computer, but needed a library card to do so. So we got in line to get him his first official Library card. "I love you mom, I trust you mom, you're the best mom in the whole world." A bit embarrassing since he said it rather loudly, and yet really awesome and nice to hear and a bit out of left field for me right now. What does he mean? What does trust mean to him? Am I even worthy of that trust? I am not the perfect parent!
The library card was cool. He signed his own name and was so excited for about 30 seconds, until he got to play computer. Then he was intensely focused on that. A fun milestone, I think - one of those cool rites of passage.
Well our new home is nice. There is a lot more yard and walk for playing, and more room in the house too. The kitchen is wonderful and the master bath is quite large. We are still very much not moved in yet, so many errands! Monday was truck unloading day, Tuesday was buy appliances day, Wednesday was loading the truck of stuff to go to storage of my SIL's that got left, Today was getting the bunkbeds for the boys, and furniture from storage day. Tomorrow DH gets to go to the DMV and I'll try to make the house look more like a home. We did get a great deal on the fridge off of
Craigslist
, which was neat. We bought the Washer/Dryer at Home Depot though with rebates/discounts/etc. Went with the
LG Tromm
with rear controls. It is more than a traditional, but we weren't wanting used on Washer/Dryer because it is harder to find them in good condition and non abused and then there is the cash flow issue too.
The finished bunkbeds: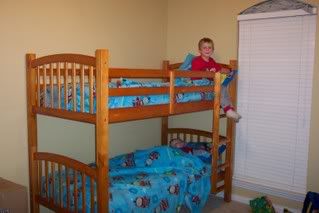 The trip out here went well. We stayed in Moab the first night at a hotel with a water slide - that was pretty neat. Though it turned out to be the only night we used the pool, since we didn't get to Amarillo until midnight the next night and the pool at the Holiday Inn here in Dallas was crowded or we were too tired. I will be reviewing the hotels on
Trip Advisor
, it is a great resource for hotels, check it out. We did go to
Four Corners
though! They now charge to go see it, which is crazy, but smart for the Navajo's. So here are our $3 per person admission to take pictures: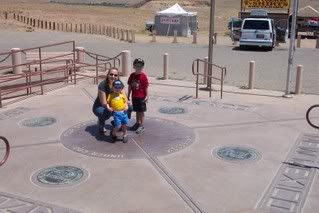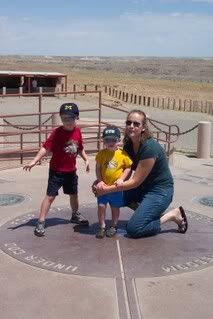 My favorite photo from the car ride: